Los Angeles – a city of urban sprawl and the most exciting as well as quirky attractions!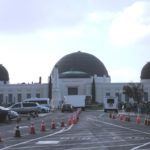 The week after Shawn and my research/fun trip to Paso Robles, San Luis Obispo, Cambria and Morro Bay, we explored a bunch of exciting places in Los Angeles.
I remember very well when I first came to the United States and traveled through part of the country eons ago, my initial thought was that Los Angeles was the one city in the United States I would never ever want to live in. Famous last words! I still don't enjoy the urban sprawl and the impossible traffic congestion, but I've come to love Los Angeles for its wonderful museums, concert halls, libraries, and its many exciting and quirky entertainments.
Los Angeles can be intimidating and I always dread driving in it. My friend Shawn, however, is much more adventurous and so I always love it when he visits because he takes me to places I either have never been to or don't know very well.
Anyway, here we were and our first visit was to the famous and amazing Griffith Observatory.
For information on the history and activities at this world famous observatory, check out its website: http://www.griffithobservatory.org/
More to come!