Los Angeles – a city of urban sprawl and the most exciting as well as quirky attractions! – Part Three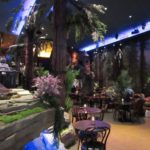 I'm obviously a slow blogger. This post is about the last day of Shawn and my Los Angeles city adventure back in October of 2017. This time, we ventured downtown again, to a historical restaurant/Tiki bar/almost a museum, called Clifton's. Here is some information about the place:
http://www.cliftonsla.com/
But first we had to find parking and that's one of the problematic sides of downtown Los Angeles. During the day I now take our new Metrolink train from Santa Monica to downtown. In the evening and at night, however, the car feels a little safer. Fortunately, street-smart Shawn was driving and we did find a spot close-by. Well done, Shawn.
And here we were, stuffing ourselves on an elaborate buffet-style dinner.
It wasn't exactly "fine dining" but plentiful and there was an amazing variety of food! Having regained our strength after the hunt for a parking space, we ventured upstairs and checked out the mysterious and glamorous environment and the art works. Here are a few photos:
You can tell that Shawn was overwhelmed!
I don't have more pictures of that evening. I had too much fun and forgot to take pictures, but Shawn did a better job of documenting this amazing place.
Hop on over to his blog! https://monsterago-go.blogspot.com/2017/11/off-to-la-la-land-part-2.html