Ebook editions available at: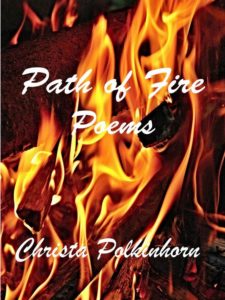 ddddddddddddddddddddddddddddddddddddddddddddddddddddddddddddddddddddd
dddddddddddddddddddddddddddddddddddddddddddddddddddddddddddddddddddddddddddddd
Paper edition
Published by Finishing Line Press (at $ 12.00)
Signed copies available from author for $8.00 (includes handling and shipping within the U.S.) 
Buy here:
What readers are saying
"Path of Fire is passionate and moving. It touches the very heart of the reader.
This is poetry at its best." Leah Maines, Poet and Bestselling Author "Christa Polkinhorn's poetry is clear-eyed and elegiac, with a cosmopolitan flavor. Path of Fire is full of unsentimental but emotionally charged poems about loneliness and family and 'searching the earth for a home.'" Gwynne Garfinkle, Poet
from the cellar to the room
after the pain has softened,
after the ashes have been scattered
on the rock, after driving past the
snowy fields of Saint Gotthard,
fill the spaces between our bodies.
Not yet understanding the full meaning
of this merging, of your hands
entwined in the leaves of plants,
your scent lingering in the
your voice trailing the crackling
of logs
in the fireplace,
a sound so delicate,
the silent words into our hearts
of all that was, before you left us.